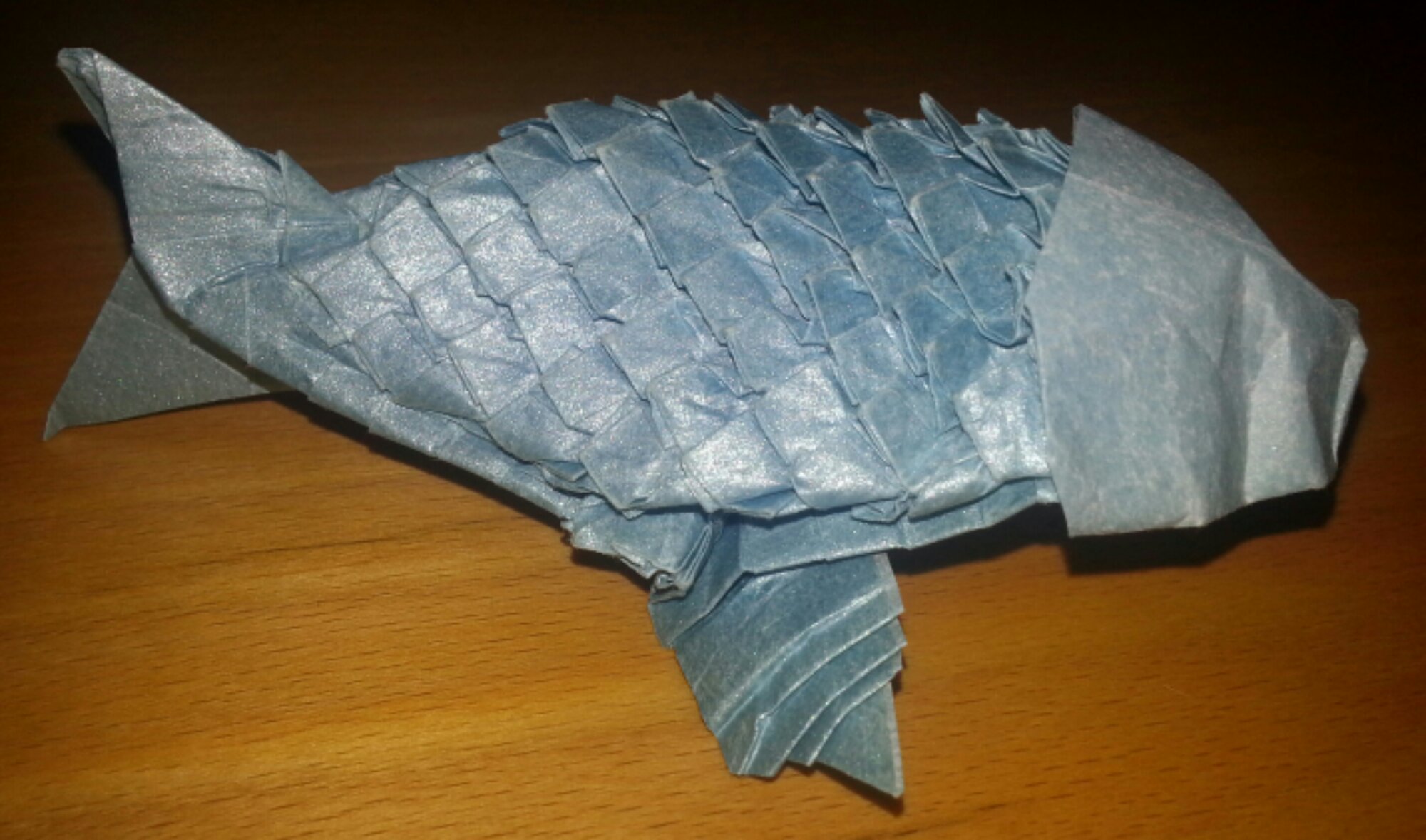 This model is one designed by origami master Robert Lang. They are on the cover of his book "Origami Design Secrets", which is a must have book for anybody interested in the science of.  paper folding.
Lang's model has neat, rounded scales, over 400 in total. For this you need to use a big sheet of paper,  about 60cm x 60cm or bigger.  I wanted to try something a bit simpler and quicker to fold.  The model above has a mere 120 scales and was folded on a 30cm. square sheet of tissue foil.
The scales themselves are simple square pleats, which are made up as follows.
1. How to do a basic pleat
| | |
| --- | --- |
| | |
| | Then fold a pleat in the other direction. |
|   | Gently pull apart the paper, forming a mini water bomb base |
|   |  Squash the pleat back down |

2. Pleat the next row

Pleat the next row, horizontally and vertically.  Follow the order sequence below.
| | | | | | | | |
| --- | --- | --- | --- | --- | --- | --- | --- |
| 8 | 8 | 8 | 8 | 8 | 8 | 8 | 8 |
| 7 | 7 | 7 | 7 | 7 | 7 | 7 | 8 |
| 6 | 6 | 6 | 6 | 6 | 6 | 7 | 8 |
| 5 | 5 | 5 | 5 | 5 | 6 | 7 | 8 |
| 4 | 4 | 4 | 4 | 5 | 6 | 7 | 8 |
| 3 | 3 | 3 | 4 | 5 | 6 | 7 | 8 |
| 2 | 2 | 3 | 4 | 5 | 6 | 7 | 8 |
| 1 | 2 | 3 | 4 | 5 | 6 | 7 | 8 |